What we heard from society managers
Starting with our own, we listed to several other society managers to understand their problems. This is what we heard:
lot of wasted time due to manual data entry
no clarity/visibility about financial information, especially accounting
need to move lot of files & paper when committees change
no collaboration with members & accountants is possible
---
What we decided to do!
We wanted to solve the real problems and software was an obvious solution. We set out on a mission to build something that
is easy to use & allows collaboration
performs automatic accounting without worrying users
can be accessed anytime, from anywhere
requires no software installation or worrying about data backup
is paperless that saves time & money
eGovernance made simple
---
Anytime, anywhere access using an internet browser
The Questions
We've spoken to several members who have experience managing housing societies & associations and understood the problems they face each day. At the end, it seemed to boil down to 5 simple questions managers should ask themselves. They are:
Is it worth your time?
Do you have immediate access to reports?
What about the files & information when a committee changes?
Do you like keeping things transparent?
Is managing your society fun?
The Answers
Answers to these questions were eyeopeners for society managers. It helped them identify gaps in their current approach and non-value activities. They could come to see that in this age of computers, a software like SocietyWise could substantially ease management. Based on the feedback, we designed SocietyWise and went back to these managers to verify our approach. The result was endless satisfaction. Here is a summary of how we addressed the problems:
1. Is it worth your time?
What they said
What we did
- I spend 2-3 hours to calculate dues & write bills, sometimes after a very hectic day as it has to be done in the 1st week of each month- The worst part if following up with members to unpaid dues- Sometimes it feels like its just not worth the time it demands
- Cutting time & simplifying tasks was given highest importance- Pre-configured bills could be generated & printed for each cycle in less than a minute- Automatic reminders for payments can be sent to members via email/SMS
- We saved enough time for resolving issues & making better decisions for the society
2. How quickly can you assess you financial position?
What they said
What we did
- Most of the time referring to a bank statement as well as due from the last billing cycle give a rough idea- Near accurate figures requires running through multiple files & some calculations
- We call the associates who manage our society; they revert in a week with the latest figures
- SocietyWise was designed with a vision to capture inflow as well as outflow- Inbuilt reports to give instant access to current figures- Ability to reconcile transactions with bank transactions
- Generating financial statements & closing books was made super-fast
3. What about the files & information when a committee changes?
What they said
What we did
- Without any system, a lot of information remains uncaptured
- Files, physical as well as soft-copies are transferred when the committee changes; Some information is always lost in the transfer
- SocietyWise captures all relevant information- Information is stored safely & securely on our servers.
- When a committee changes, administrator privileges can be assigned to another member who can then manage the society from their account. No need to even share passwords.
4. Do you like keeping things transparent?
What they said
What we did
- Hectic schedules & paper-based communication acts as a barrier to sharing all information with members
- Members in turn get a feeling that the society is being managed in a non-transparent way
- SocietyWise lets you grant access to members to view information for their properties, as well as expenses, notices & reports for the entire society
- Transparency & professionalism in operations is guaranteed when SocietyWise comes in to the picture
5. Is managing your society fun?
What they said
What we did
- Paper-work, auditor queries, etc take away a lot of time as well as interest- It's interesting, but honestly a thankless job
- It is difficult to handover to other members who are not familiar with management tasks & book-keeping
- Easy-to-use screens & reduced time for tasks avoid 'the burden feeling' and save time for loved ones, reading a book, or taking a walk- Auditors can proceed with reviews & corrections by accessing transactions; you don't have to run around
- SocietyWise ensures that all transactions comply with accounting standards allowing members without accounting knowledge to manage a society
11 great reasons to start using SocietyWise
Get started in an hour after registration & feel like an IT expert with our easy-to-use interface with help information on every page
Generate & print bills for your entire society in less than a minute
Record expenses, reconcile payments with your bank account and maintain a single version of truth
Comply with accounting standards without the need of understanding them
Instant visibility into finances via reports & financial statements
Eliminate manual follow-up by configuring automatic reminders for bill payments, meetings, etc
Grant access to members & increase transparency in operations
Let your auditor (CA) review transactions online & close books faster
All you need is internet access to manage your society anytime, anywhere
We're committed to enabling eGovernance & will offer unlimited support to deliver that experience
SocietyWise was made to save time & simplify managing society management
Or read about the tons of features included with SocietyWise to solve practical problems with managing societies.
Easy to use. Accountant approved. Clear-cut Savings.
Income Management
Configure templates for automatic, recurring bills/invoices with charges based on the type, size, occupancy status or standard rates
Include taxes, interest on dues, early payment discounts as applicable
Generate bills for the entire society in less than a minute
Receive payments from members & apportion them against open bills (online or upload file)
Print bills & receipts in your society's format & email to members
Automatic email & SMS alerts for new bills & payment due
BackFin Accounting
BackFin silently performs double-entry book-keeping for all your transactions, you won't even notice it
Comply with accounting standards without being an accountant & spend less on book-keeping
With member & general ledgers maintained automatically, Live balances are easily available
If needed, you can configure custom chart of accounts & manage the general ledger
Allow auditors to review & correct transactions and publish a balance sheet faster
Reports
Get complete visibility into your cash position
Perform ageing analysis of dues from members & vendor invoices
View bank transactions & reconcile with your bank statement
Pre-canned reports to help generate your balance sheet & income statement faster
MySocietyWise
Members can access their information, print statements and statements & configure payment reminders
Single account to access properties in multiple societies
Society moderators control access
Information Management & Collaboration
Online 'Member Directory' with contact information of all residents (based on their privacy setting)
Online notice board & Minutes of Meeting recorder
Upload & share documents such as notices, scanned agreements, etc
Raise concerns, make suggestions or share something with others
Instant polls to make decision making faster
And we add new features every month - which you get Free!
Easy to use
Intuitive interface with tooltips everywhere
Get started without any accounting or technical knowledge
Single login for access to different societies
Free monthly upgrades to the latest & greatest features
Free support to help you settle in comfortably
Accountant-approved
Comply with bookkeeping standards without being an accountant
Don't worry, all this is accountant approved!
Time: With 25 members, save over 2000 minutes each maintaining records
Money: Spent in bookkeeping fees, printing bill books, etc
Paper: every 10 societies, will save 1 big tree each year by going paperless!
Increases visibility & transparency
Get complete visibility into the society's finance
Statistics on member dues, average time to pay, etc. and insightful graphical reports on all aspects
Create transparency by allowing members to access information
Give a professional and organised look to your society
Eliminates manual work
Setup a bill template & generate recurring bills in a single click
Send bill & payment notifications via email
Track unpaid bills & configure automatic reminders
Increases productivity
Free yourself from all manual, repetitive tasks & data-entry errors
Focus on managing the society in a better way
Avoid multiple trips to the accountant to close books
Ready statement of account for members and suppliers
With an electronic ledger, audit & close books sooner
Accessible anytime, anywhere - all you need is an internet browser on a PC, Mac or smart-phone
Secure data transfers & safe storage of all society information
Automatic data backups so you don't have to worry about data
Read more about Data Security
The web is safe with encryption, firewalls & secure storage
We take data security very seriously have taken care to restrict access, secure data transfers & safely store information while you access SocietyWise using your PC, Mac or smart-phones.
Role-based access control
Every authorized user has a role, such as committee member, member, or accountant based on which information is filtered
Society managers have full-access to generate bills, create receipts, change settings, etc
Members can login to view transactions for their property & common information such as notices
Accountants have read-only access to existing transactions & can be allowed to pass journal entries
Encrypted Data Transfer
Data is encrypted during transferred so that only your computer & our servers can read it. Even intentional interception is worthless.
Secure Data Storage
Data storage extends to preventing unauthorized access, protection against loss of information and, most importantly, making it available when required.
To ensure a secure infrastructure, we chose a server provider who has been an industry leader since 1996 and provides uptime guarantees & 24 hour monitoring of their servers in the US.
Web v/s My Computer
It is only a myth that your computer is more secure than the web while the reverse is actually true.
Data on the web is free from physical theft, crashed hard-disks & lost files.
Your data is securely transferred, stored on firewall-protected servers with regular backups, so that if something goes wrong, we can restore back to normal.
We put security first, so you can enjoy features and benefit using SocietyWise.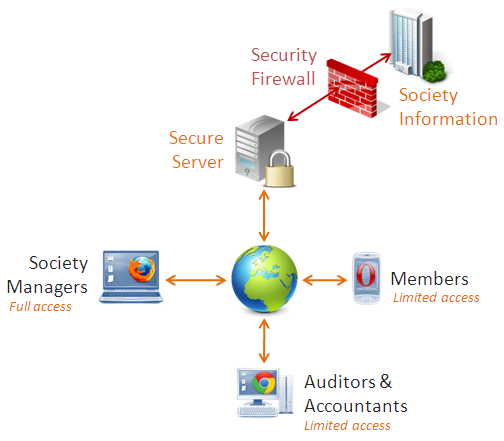 We understand the importance of an end-to-end solution!
We have thus expanded our offering beyond software, to provide common services that will save time of honorary members - for a very small fee.
Bill Issue & Printing
Generation of monthly/quarterly maintenance bills considering past payments & interest on arrears
Provide bills & monthly dues (debtors) report
Accountants have read-only access to existing transactions & can be allowed to pass journal entries
Payment processing & cheque Deposit
Monthly submission of cheques received from members into the society's bank account
Record & adjust payments against members dues in SocietyWise
Provide receipts & monthly receipt report
Utility & Tax Payment
Data is ePeriodic payment of utility bills such as electricity, federation subscription, etc
Issue monthly report on expenses & dues to vendors (creditors)
Expense Management
Record routine expenses & payments information in SocietyWise
Sourcing & Vendor Management
Identify new vendors for specific requirement such as civil work, maintenance contracts, security, pest control, etc
Negotiate prices & contracts with vendors on behalf of the society by leveraging existing vendor relationships
Accounts & Audit
Maintain books of accounts for all transactions within SocietyWise & other assets
Prepare Income statement & Balance sheet & statutory reports
Audit of accounts & financial statements by Chartered Account (CA)
Income Tax filing
Prepare income tax returns & file
These services along with top-class features give your society several benefits not available when managing on paper.